It'll soon be a brave New Year and with it comes a variety of new and exciting ways to stay healthy,  improve our self-care regimes and also pamper ourselves a bit. Here are a few fab finds worthy of consideration.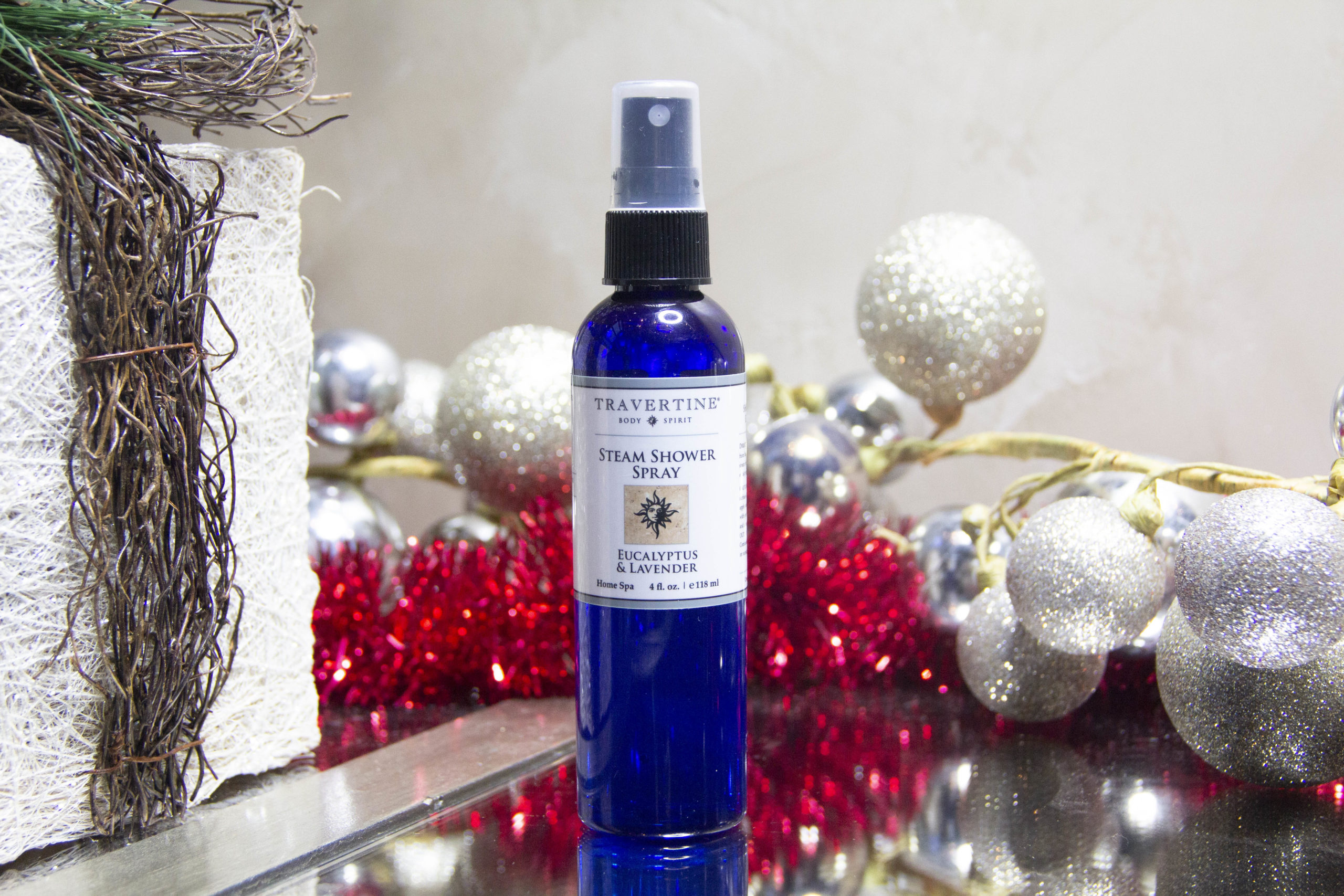 Eucalyptus + Lavender Steam Shower Spray (www.TravertineSpa.com)
My new obsession for enhancing the shower experience: Travertine Spa Eucalyptus + Lavender Steam Shower Spray. The company took their best-selling traditional Eucalyptus Steam Shower Spray and enhanced it with the wonderfully calming and uplifting aroma of lavender. Simply spray the product downwards into a warm, steaming shower and enjoy the inhalation benefits as the fragrance converts your shower into an aromatherapy spa experience. Travertine Spa uses eucalyptus as a key component due to its known ability to facilitate deeper breathing and stress relief. The company blended their 100 percent pure eucalyptus oil with lavender to promote relaxation and overall self-care. Inspired by the spas in Australia and France, the Steam Shower Spray makes everyday a spa day. Travertine Spa traveled to Melbourne and Tasmania seeking fragrant, camphorous eucalyptus, as well as Grasse, France, for lavender fields and the art of perfumery to create an all-around encompassing scent with soothing benefits with each use. The company reports that Forbes selected the Travertine Steam Shower Spray from among 400 companies for the prestigious "10 Great Travel Gifts for Travelers." So, it's fabulous for use at home or while traversing the globe.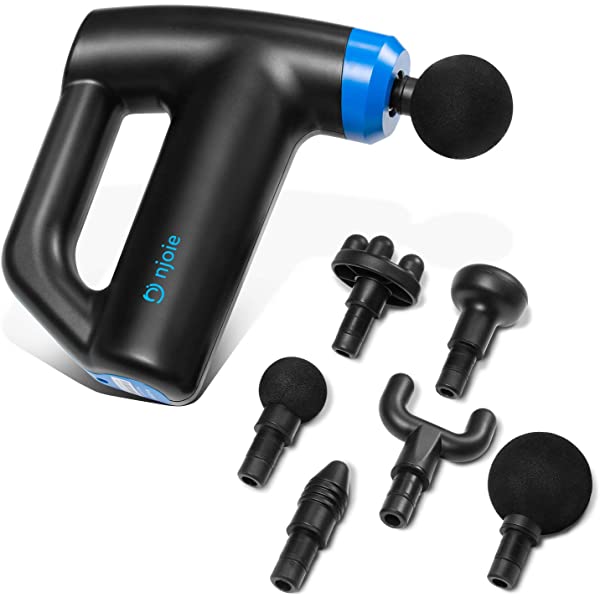 Njoie NFORCE Massage Gun (https://www.Njoie.com)
Health and wellness brand Njoie recently launched its NFORCE percussion massage gun, making at-home recovery and relief accessible to all consumers regardless of their lifestyle or activity level. Notable features include an ergonomic multi-grip design, five levels of adjustable intensity to accommodate consumers' pressure sensitivity, three vibration patterns, six unique attachment heads to target specific muscle groups and low noise level so people can use it anywhere without causing a disturbance. The attachments include the following: Fork providing flexibility for the neck and spine; Bullet targeting joints with precision; Two ball heads for medium to large muscle groups; Multi-head point for abdominal muscles and hypersensitive nerves on the palm of the foot; and Flat that is less intrusive and can be used on all parts. The device penetrates deep into the muscles with more efficiency than conventional massages to loosen sore and stiff muscles quickly and efficiently by targeting specific muscles, thus promoting blood circulation. NFORCE stands out in the space by providing the same benefits to athletes, fitness buffs and the everyday consumer who wants to prioritize self-care. This handheld, rechargeable, electric percussion massage gun provides recovery and relaxation benefits and an easier entry point for everyone wanting to discover the everyday benefits percussion guns provide. NFORCE fits any sized hand comfortably and can be held for a range of different positions and mimics the Swedish striking massage method called Tapotement Stroke or Percussion Stroke Treatment, making it ideal for those who are new to massage and sensitive to touch.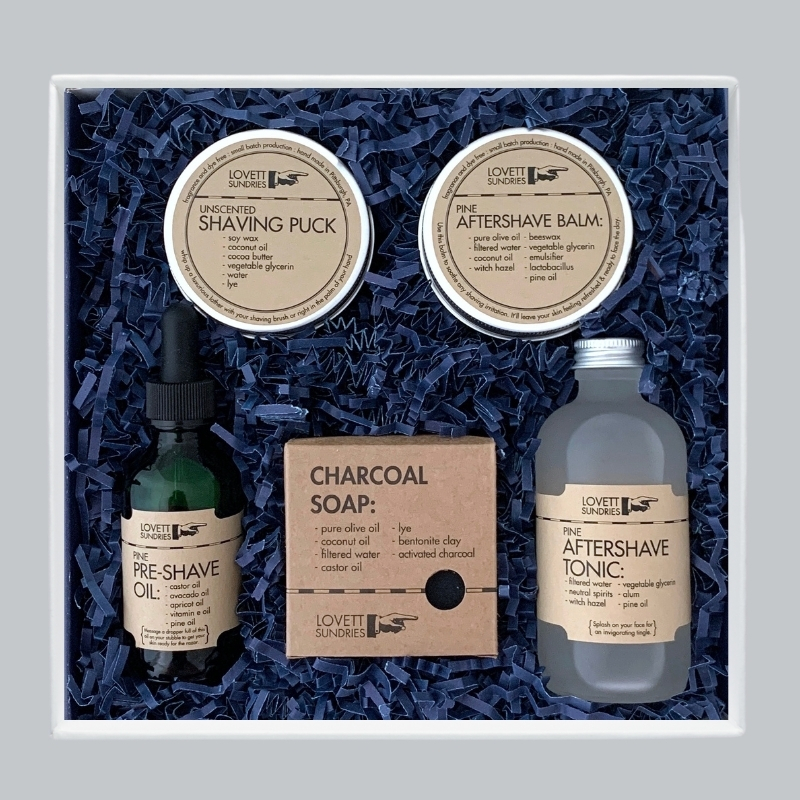 Beneboon's Handpicked Arrangements (http://www.beneboon.com/)
Beneboon is a company that curates and arranges amazing boxes that are filled with only the finest quality, responsibly-made and useful items to indulge in and elevate our busy, everyday lives. While they have a nice assortment of options, two truly caught my eye this season. First is the "Clean Shaven" box.  A lot of men might consider skin prep and care as more of an indulgence rather than a crucial element to their shave routine. I say it's both. Clean Shaven presents the opportunity of a sophisticated set that brings an easy shave and skincare process into your home so you can prep right. The Charcoal Soap will clarify the skin and draw out impurities and you can even use it as a daily face wash. Begin your shave with the Pre-Shave Oil that will help protect and prepare the skin for the razor. The gluten-free Shaving Puck, which can be lathered with a brush or your hands, will provide an easy glide for your razor and preserves your natural skin oils, preventing dryness. The Aftershave Tonic and Balm is a one-two combo that will soothe and tone your skin, while the balm hydrates and treats any areas of irritation and dryness. It'll make your shave truly clean and upgrade your bathroom shelf all at once. The full arrangement includes Pre-Shave Oil; Shaving Puck; Aftershave Tonic; Aftershave Balm; and Charcoal Soap. Meanwhile, The Club by Beneboon is another great box option that brings a relaxed game night home. The arrangement includes infused ice cube cocktail mixers by Herb & Lou's, aces playing cards by Vanda Playing Cards and two gold filigree cocktail tumblers by Simply Curated. Using these naturally flavored ice cubes, you will create a classic Old Fashioned in just seconds—just add bourbon! For those who prefer a mocktail, use the orange ginger-infused cubes with your favorite sparkling water. Sit back and sip your concoctions from a heavy-weight midcentury vintage-inspired gold filigree glass that looks and feels as upscale and sophisticated as your drink commands. Then, get your game on with the four-color design deck that makes your poker flushes easier to spot. This durable deck is great for playing any game, even Solitaire, for a perfectly chill night at home.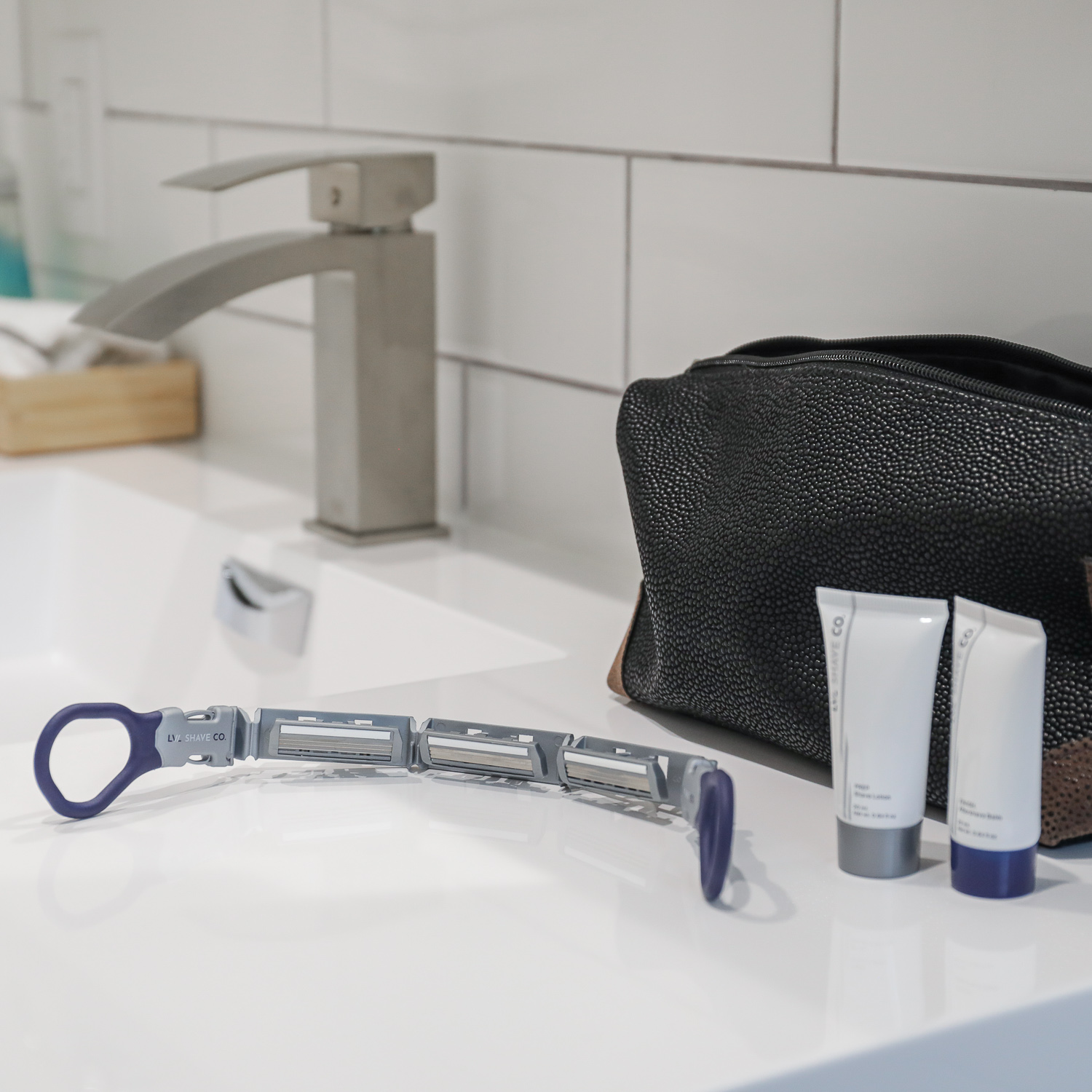 LVL Shave Co. The Ultimate Neck Groomer (www.LVLShaveCo.com)
Speaking of shaving, The Ultimate Neck Groomer from LVL Shave Co. makes neck shaving easy. No more asking your partner or juggling a second mirror to shave the back of your neck between haircuts. The Ultimate Neck Groomer by LVL Shave Co. is designed to shave the back of your neck for a quick, fresh cleanup and is perfect for any situation, like getting ready for a night on the town. This ultra-lightweight neck groomer features three aligned razors on a neck-forming strip and two ergonomic handles so you can easily shave the back of your neck on your own. Simply place under the hairline and swipe down! After use, it conveniently snaps apart and easily slips into its anti-microbial, breathable travel case and fits easily in your toiletry bag. The company also offers a Subscription Set to keep the ease and convenience coming. The first month includes 1 x Neck Forming Razor Strip; 2 x Rubberized light weight detachable handles; 1 x Breathable Travel Case; and 3-month supply of 15 razors. Then, every three months after, new razors will be delivered right to your doorstep for a nominal fee.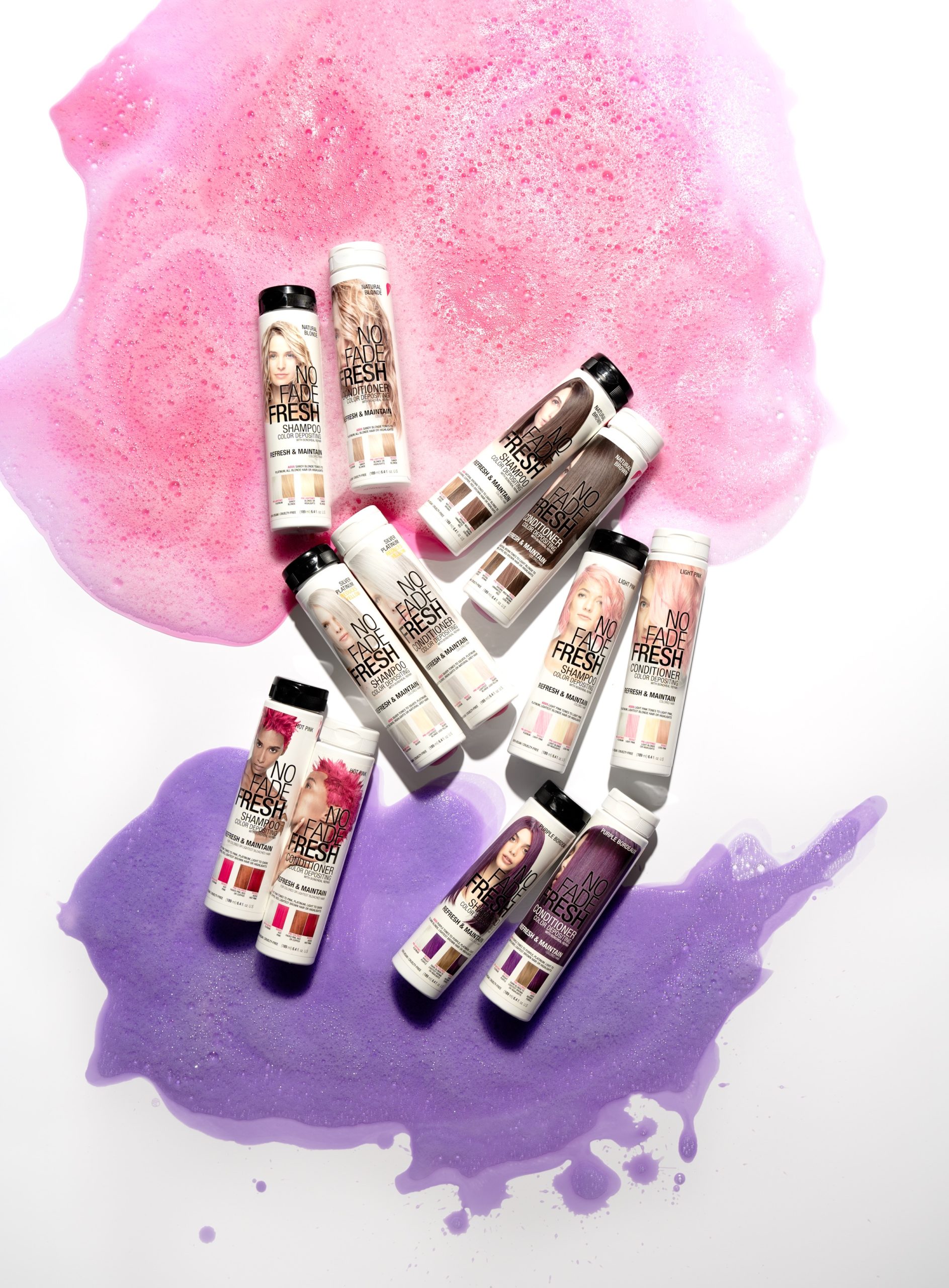 No Fade Fresh Color-Depositing Shampoos and Conditioners (www.NoFadeFresh.com)
Launched in February 2020, No Fade Fresh is an innovative product formulated by professional hair colorists to enhance both professional salon and box hair color and stop hair color fade—all without damage to the hair. The corresponding shampoos and conditioners are the only lathering, color-depositing and "ethically safe" hair color products on the market that can be purchased in grocery, drug and mass retail stores. The products deposit high quality, semi-permanent hair color directly to the hair—conveniently in the shower! No Fade Fresh is a plant-based, salon quality, multicultural brand that works on all hair types and textures. All products feature a built-in bond rebuilder that counteracts the effects of bleach and permanent hair color. The company reports that No Fade Fresh is the first "clean" beauty hair color at food, drug, and mass retail stores that can make the following claims: FDA and EU Safety Compliant; 100% Gluten Free/Vegan; Sulfate Free; PPD Free;  Paraben Free; Formaldehyde Free; Phthalate Free; Mineral Oil Free; PETA-Certified/Cruelty Free (No Animal Testing Ever). All products conveniently feature color swatches showing hair colors and results, as well as QR codes that link the consumer to product videos and demonstrations.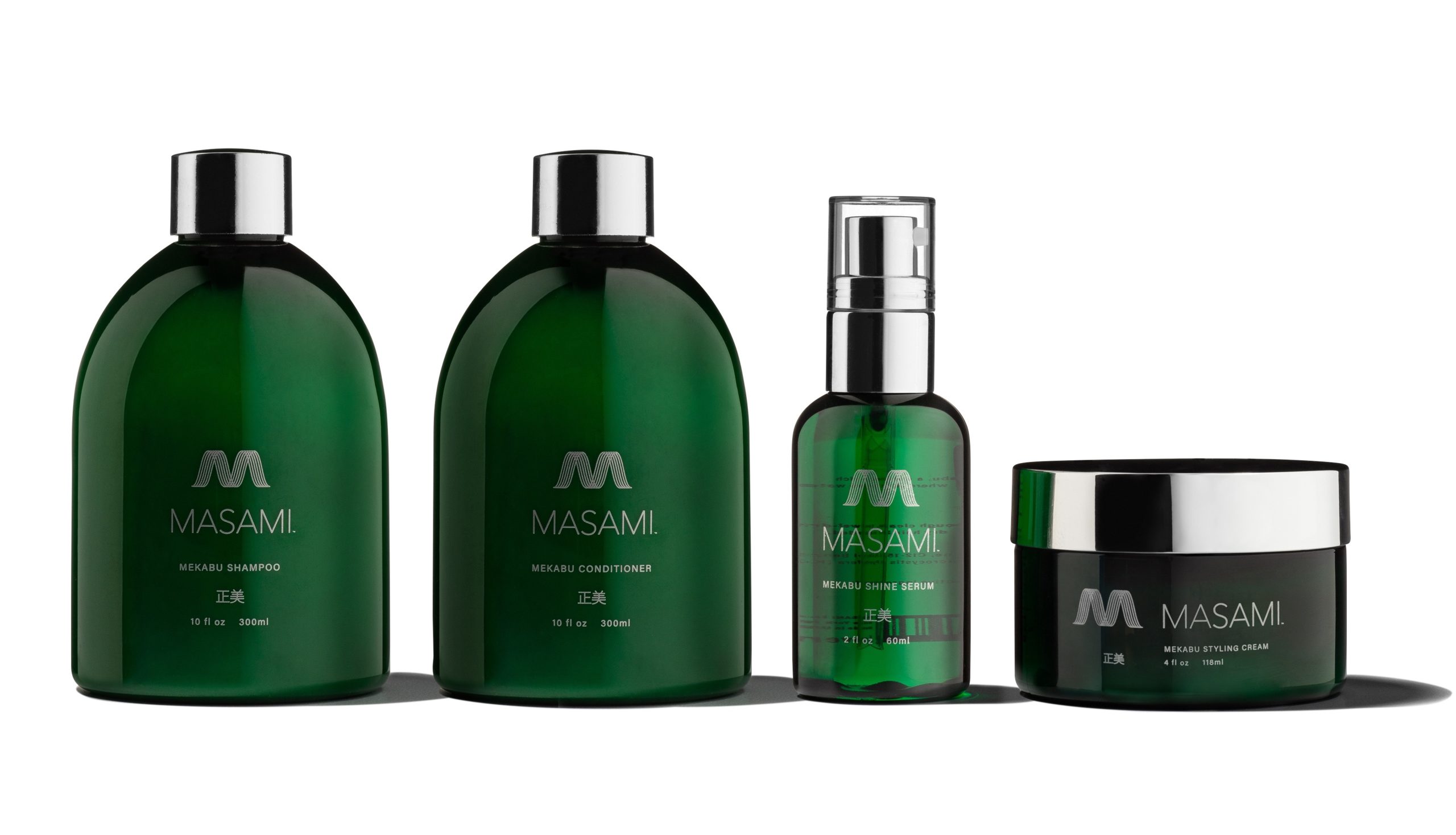 MASAMI Haircare (www.LoveMasami.com)
For those wanting to keep their locks looking lovely all the time, check out MASAMI. This clean, premium haircare line boasts a uniquely formulated Japanese ocean botanical, Mekabu, for massive hydration. Mekabu is beneath the Wakame leaf, and is filled with ocean vitamins and minerals to leave your hair healthy, shiny and gorgeous. All of MASAMI's products are infused with Mekabu powder, fresh from Japan where they source it from a family owned seaweed company. The line of MASAMI products are luxurious and high performing, without any "bad" ingredients. This means there are no sulfates, parabens or phthalates. MASAMI is gender neutral with a fresh, clean scent. The company's clean formulations give your hair massive levels of botanical hydration without weighing it down. The line is formulated with other luxurious ingredients such as japonica laminaria, blueberry extract, aloe and grapeseed oil. Plus, the company touts itself as always vegan and cruelty free. MASAMI's debut product line consists of Mekabu Shampoo, Mekabu Conditioner, Mekabu Shine Serum, Mekabu Styling Cream and the Mekabu Travel Kit consisting of all four.

Marula Night Serum (www.TravertineSpa.com)
Here's a fabulous options for those skincare devotees! The Marula Night Serum from Travertine Spa is an antioxidant rich concoction that not only deeply moisturizes, but it's also a vitamin delivery vehicle for skin and a fragrant aromatherapeutic escape all in one. It works to help with tone and texture of the skin by providing deep hydration. In this product, Travertine Spa infuses wild-crafted Marula Oil for moisture with certified organic hibiscus known for its powerful firming properties. In fact, certified organic hibiscus flowers are considered the "Botox" plant for firming properties and are a natural source of alpha hydroxy acids.  This luxury blend of skin beneficial essential oils contributes to skin elasticity, blood circulation and the prevention of inflammation. It's also easy to use; just apply in the evening after your normal cleansing regimen when you need deep hydration. Place three drops on your fingertips and inhale for massive aromatherapeutic benefits. You can also massage the serum into your face and neck. Your skin will be thanking you as soon as the next morning, as it will feel more supple and hydrated. You can even add a drop to your day moisturizer when you need extra hydration. Known to improve skin elasticity and prevent the appearance of stretch marks, the Marula Night Serum also contains Neroli Essential Oil in addition to Lavender Essential Oil, which is known for its ability to eliminate nervous tension and enhance blood circulation. The serum is rounded out by geranium, which aids in the reduction of inflammation. The food folks at Travertine Spa travel the globe for inspiration, ingredients, ancient skin care rituals and therapeutic body treatments to bring consumers unique products like this boasting vitamin rich botanicals.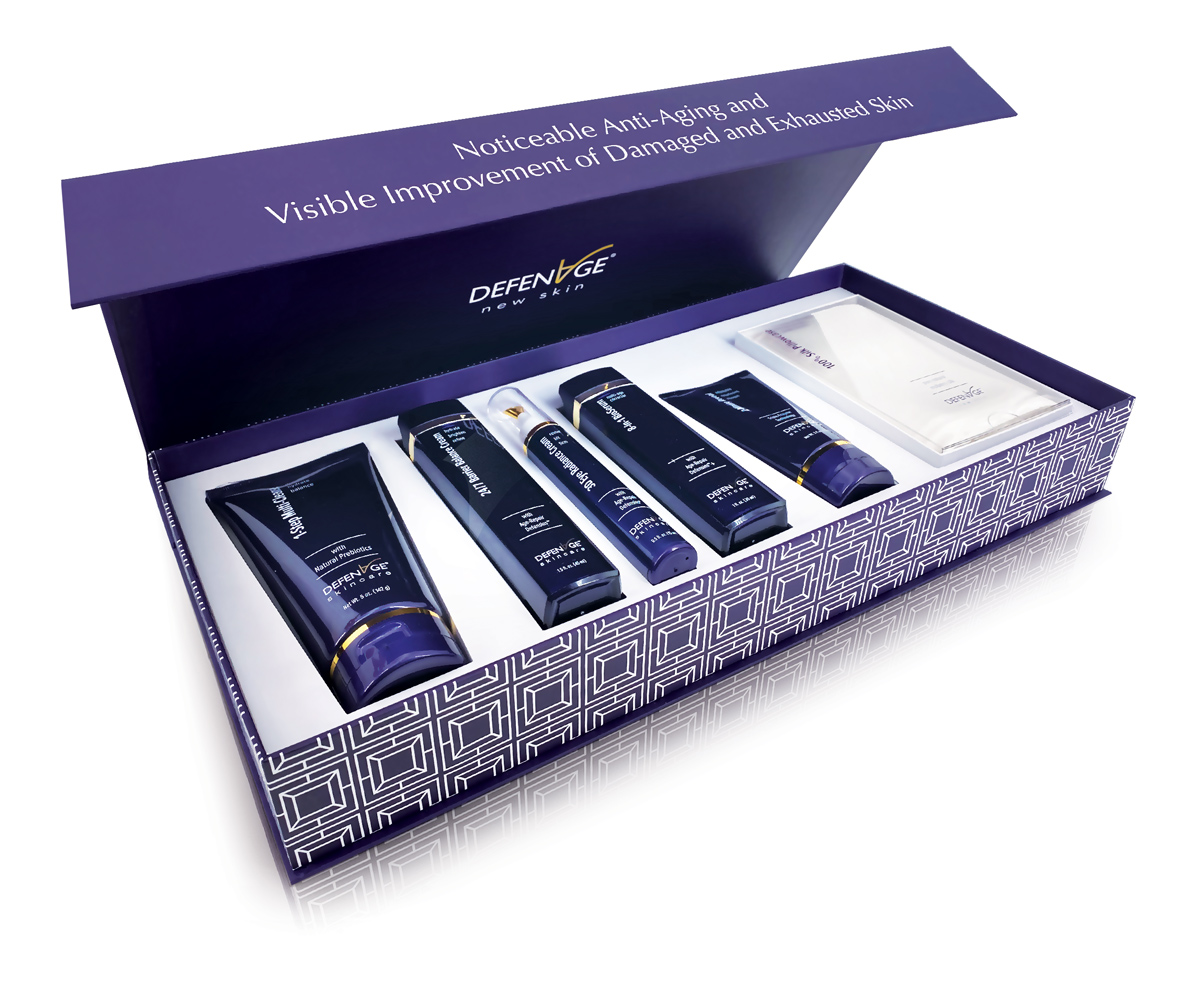 DefenAge LUXE KIT Skincare (www.DefenAge.com)
This five-piece set even comes with a gorgeous mulberry silk pillowcase to complement the full DefenAge new skin regimen. The Luxe Kit includes the DefenAge signature Clinical Power Trio—a high-preforming skin care routine that corrects visible signs of skin exhaustion, damage and aging on a global scale; a 3D Eye Radiance Cream that improves the visible health and appearance of delicate skin around the eyes; and One-Step Multi Cleanse that effectively melts away makeup, dirt, oils, surface debris and air pollutants. It has innovative technologies that promote skin's barrier functions, while natural prebiotics support skin's ecology. Overall, DefenAge is a unique blend of rigorously tested scientifically proven skin ingredients and the highest clean beauty standards. Backed by clinical studies, DefenAge's proprietary defensin molecules reprogram and rejuvenate skin to turn skin visibly healthier and younger and minimize pores and wrinkles, while improving brightness, tone, texture and hydration. The line is widely recommended by dermatologists as perfect and safe retinol alternative, certified vegan and proven to create fresh, new, healthy skin via natural mechanism of action.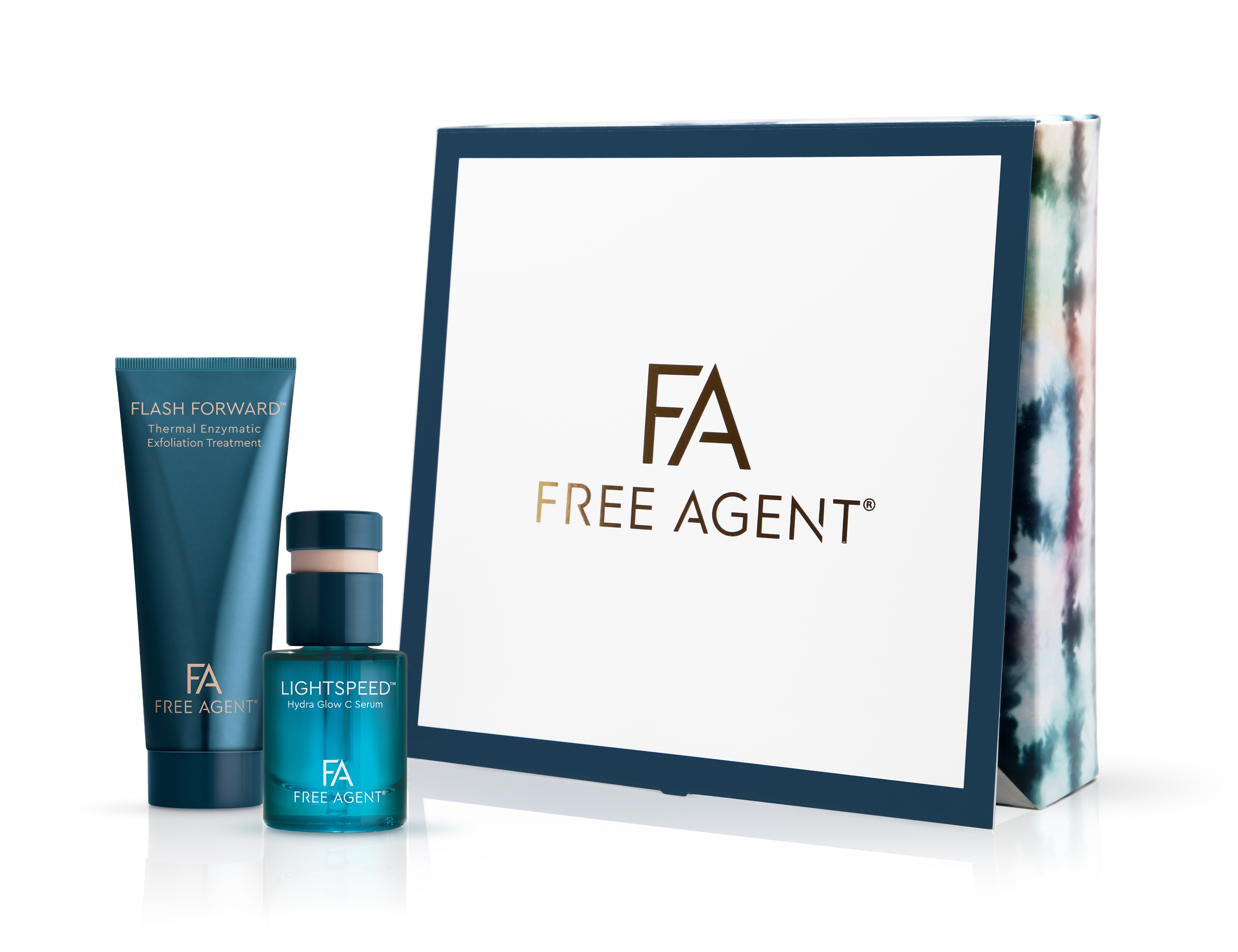 Free Agent Skincare Complexion Resurrection Treatment Duo (www.FreeAgentSkincare.com)
Another amazing skincare solution is Free Agent Skincare—a clean-science, indie beauty brand boasting high-end solutions. The company's Complexion Resurrection Treatment Duo is a truly luxurious beauty product that proffers effective, professional-level results from the comfort and safety of your home. Revive the look of dull, uneven skin with this one-two punch of intense exfoliation and clinical strength Vitamin C. First, fluff off dead skin cells and speed up cell turnover with the Flash Forward Thermal Enzymatic Exfoliation Treatment. When that's done, stimulate Type 1 collagen to improve texture, reduce the appearance of sunspots and brighten overall tone with Lightspeed Hydra Glow C Serum. Relative to the first step, Flash Forward is an intense 2-in-1 resurfacing exfoliation treatment with lactic acid, multi-fruit enzymes and a Thermal Warming Complex that will visibly reduce the appearance of fine lines and improve the look of skin tone and texture for a brighter, more youthful glow after just one use. This powerful formula merges physical and chemical exfoliation to thoroughly open pores and allow the active ingredients to penetrate deeper for a more intense exfoliation. Formulated with 10 percent lactic acid (AHA), and papaya, pineapple and pumpkin enzymes, this intensive treatment helps to remove dead skin cells and increase cell-turnover for a professional grade facial at-home. Meanwhile, for relative to the second step, the Lightspeed Serum is a rich Vitamin C Hydrating Treatment formulated with 10 percent clinically proven BV-OSC Vitamin C to help boost collagen levels, lighten sunspots and age spots and leave skin with a hydrated glow. This lipid soluble form of Vitamin C penetrates to the deeper layers of the skin where collagen production occurs, helping to stimulate collagen synthesis, reduce the appearance of UV-related damage and dark spots and brighten overall skin tone. With active levels of squalene and sunflower seed oil, this daily serum provides 24 hours of hydration without a greasy feel.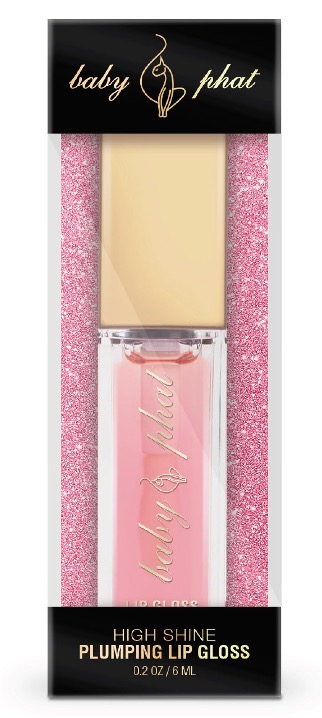 Baby Phat Beauty High Shine Lip Plumping Gloss (www.BabyPhatBeauty.com)
This item is perfect as a stocking stuffer! Baby Phat took to the street and the runway and has forged a new path—and have come to market with a new take on beauty—one where self-expression owns the conversation and you control the narrative. One item in the company's "glow up" arsenal is the Baby Phat Beauty High Shine Lip Plumping Gloss—a limited-edition lip gloss for the holiday season. This color plumping gloss has a sheer-like pink tint with glassy finish that envelopes lips in high-shine color and helps create the appearance of fuller lips from both the first application and over time. This plumping lip gloss delivers mesmerizing shine while providing lasting moisture for soft, luscious lips. It delivers lustrous, high-shine with a refreshing, tingly sensation. It's easy to apply; just use a generous coat of the Baby Phat Plumping Lip Gloss over the entire lip area. Users may experience a slight tingling sensation, which will go away shortly after applying.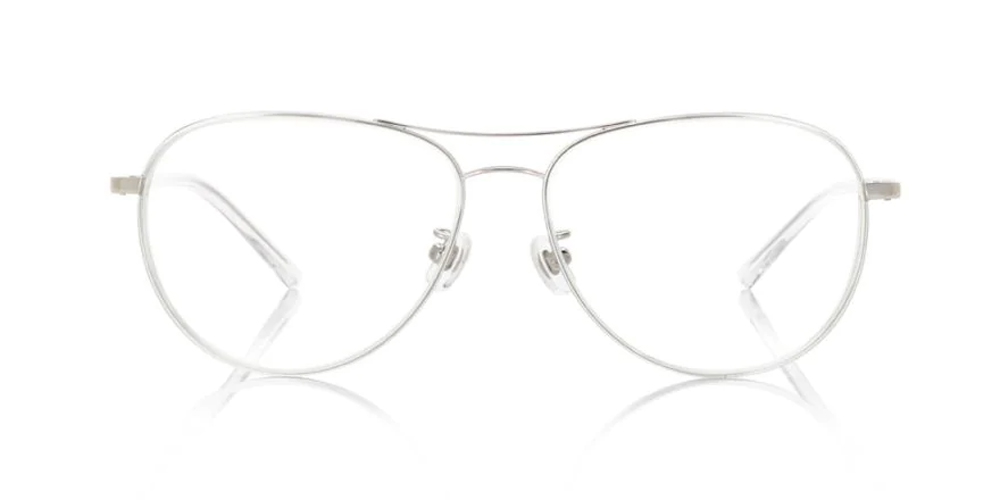 JINS SCREEN Blue Light Glasses – with or without prescription (www.Jins.com)
Do you know someone who deals with long screen time, whether at work on your computer or binge-watching your favorite series? If so, blue light may be causing you eye fatigue. As such, wearing blue light glasses can reduce this digital eye strain and better protect your eye health. At JINS Eyewear, you can pick any frame style and add JINS SCREEN blue light lenses. JINS has reportedly already helped over 12 million customers protect their eyes in both the U.S. and Japan. The company offers three blue light lens types: JINS SCREEN Regular, which blocks 25 percent of blue light and is good for everyday use on digital devices coming clear with a blue filter coating; JINS SCREEN Plus, which blocks 40 percent and is good for heavy screen time use with a light green tint; and JINS SCREEN Night, which blocks 60 percent and is good for night time use before bed, coming in an amber orange tint. The lightweight, Aviator-shape frame I chose has adjustable nose pads for better comfort. The inner plastic brightens the frame to give a simple yet unique detail. Of course, there are also different lens types depending on the type of prescription, or lack thereof, that one requires. Those include single vision, for correcting one field of vision (nearsighted, farsighted and astigmatism); progressive, for no-line multifocal lenses (nearsighted, farsighted and intermediate); readers; or non-prescription. The lenses, themselves, are thin and have anti-glare properties. The aspheric shape also creates less distortion and each lens has a 99.99 percent UV cut. No matter which you choose, you're sure to reduce eye strain after long screen time.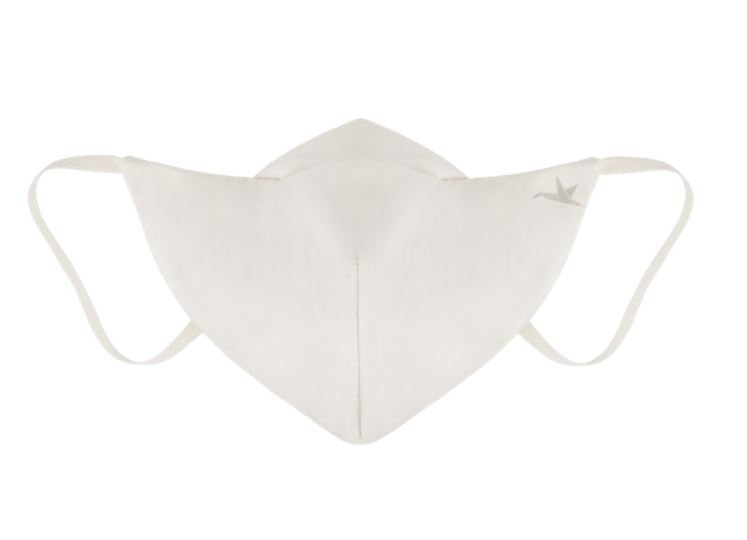 OURA Active Face Mask (www.OurAgami.com)
Nothing says "I care" like facilitating one's health and safety. OURA Active Face Mask is a great option, particularly for fitness-oriented people, as this reusable, antimicrobial mask was engineered for maximum protection and comfort while working out. Powered with lab-tested and proven antimicrobial technology, the OURA Active Mask doesn't just filter germs, it simultaneously kills them. Plus, all of the company's masks are designed with skin-friendly, hypoallergenic fabrics and a pouch on the inside, allowing users to add a NIOSH-approved N95 filter for the ultimate safeguard against pathogens. These masks were designed to also provide moisture-wicking properties to decrease heat and humidity around your face. With an updated design and a more breathable fabric, the OURA Active Mask is billed as the most comfortable protection you can get while working out, whether that be while you run, jump, lift or stretch. Additionally, when paired with the company's Adhesive Active Tape, it is sure to stay on your face no matter how strenuous the workout. The water repellant material deflects sprays and aerosols to help prevent pathogen penetration from sneezes and coughs and the anti-static fabric doesn't cling to your face while you move. The masks are also deodorizing to break down odor-causing molecules and bacteria and each has an air diffuser to prevent air from blowing into your eyes when you exhale. The OURA Active Mask features self-sterilizing technology. Antimicrobial agents such as silver oxide and titanium dioxide are permanently embedded into every thread of the medical-grade fabric and the masks have undergone independent testing by a leading third-party laboratory to ensure proper filtration.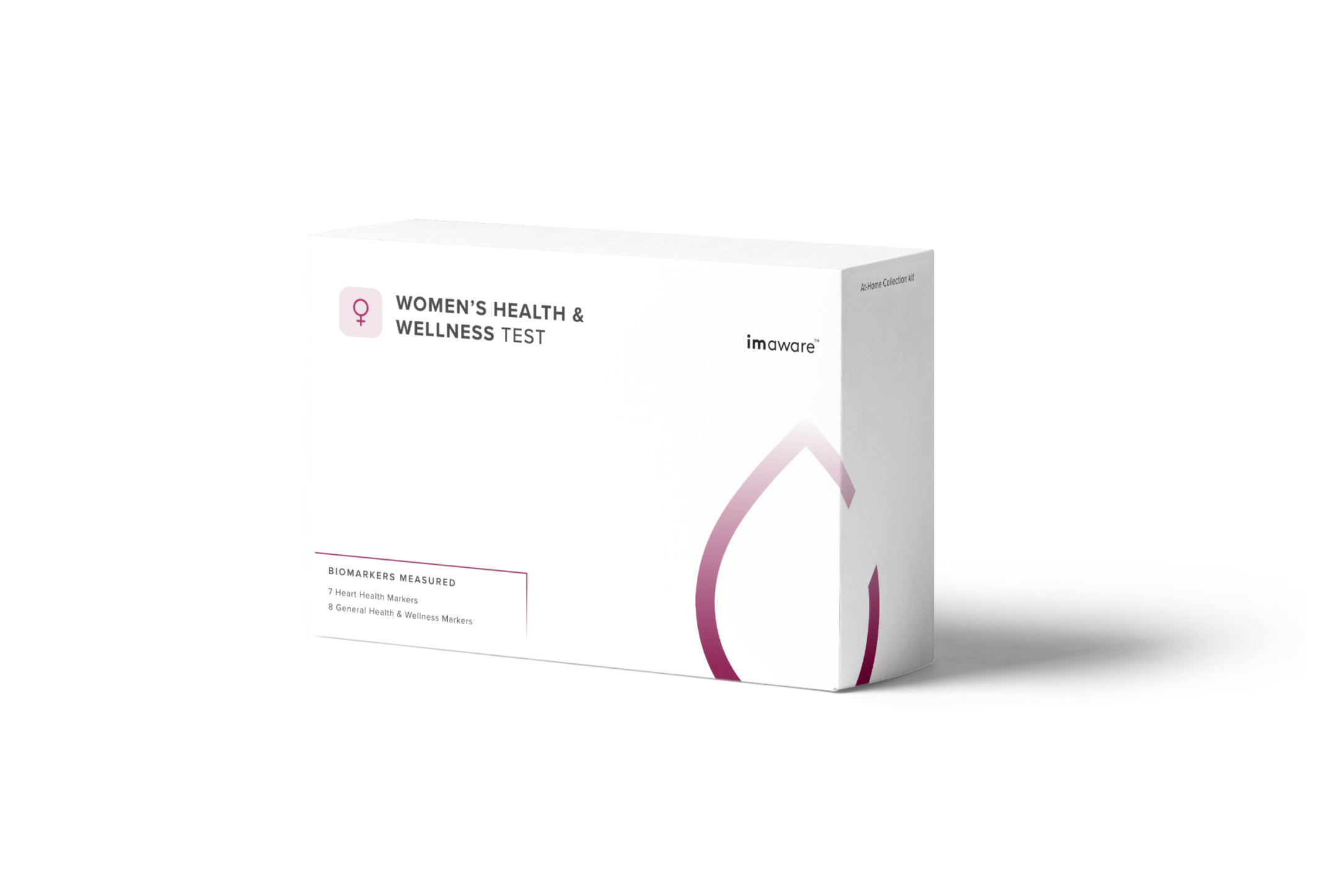 imaware Women's & Men's Health & Wellness Test (www.Imaware.Health)
When it comes to wellbeing, knowledge is power as they say.  The imaware Women's and Men's Health Test is a broad spectrum of biomarkers to help provide a comprehensive view into a person's overall health. These tests review overall cholesterol profile and also measures inflammation levels. Biomarkers include HDL, LDL, triglycerides, hs-CRP, HbA1c, fasting glucose and more. It's known that health and wellness are a function of many different culminating factors and the imaware tests measure the basic functions to give individuals the knowledge to obtain optimal health. Testing for general wellness allows a baseline to be established and an understanding of areas that can be improved upon, while also allowing a healthcare provider to assess any potential health risks and personalize treatment. Instead of nagging a loved one to visit the doctor for annual checkups, individuals can take control of their own, and partners, spouses or parents', health paradigm from the comfort of home. In addition to being discreet and secure, all of the company's tests are physician reviewed, and validated and performed in a CLIA-certified laboratory.
See Also minder Wellness App + 'Smart' Wearable Accessories (www.obVus.me)
Here's a holistic way to help someone feel better in a variety of ways courtesy of smart wearable tech. minder's patented, award-winning app + accessories transform the Apple Watch into a "smart" wearable. minder uses real-time visual biofeedback to coach and condition healthy habits like good posture, mindful breathing and purposeful breaks using a "gamified" environment and sensory cues. Designed to work on multiple touch points, minder makes healthy habits fun and produces outcomes clinically proven to reduce stress, increase strength, improve blood pressure and reduce chronic back pain. minder reminds users when and HOW to breathe, incorporating breathing options such as "Box Breathing" and "Diaphragmatic Breathing" along with a variety of soothing nature and ambient sounds. minder conditions posture through 360-degree, real-time biofeedback, visual prompts, audio chimes and soft tapping vibrations and allows users to schedule reminders – called ME/Mos ("Me Moments") – to encourage mindful breaks. ME/Mos can be anything from a meditation break to drinking a glass of water to a full workout, and are centered around mindfulness, nutrition, movement, and healthful sleep habits, empowering users to take control of daily stress factors. Benefits of minder include improved mood, focus, sleep and core strength as well as reduced pain. The web site offers a free book titled "Why Posture Matters."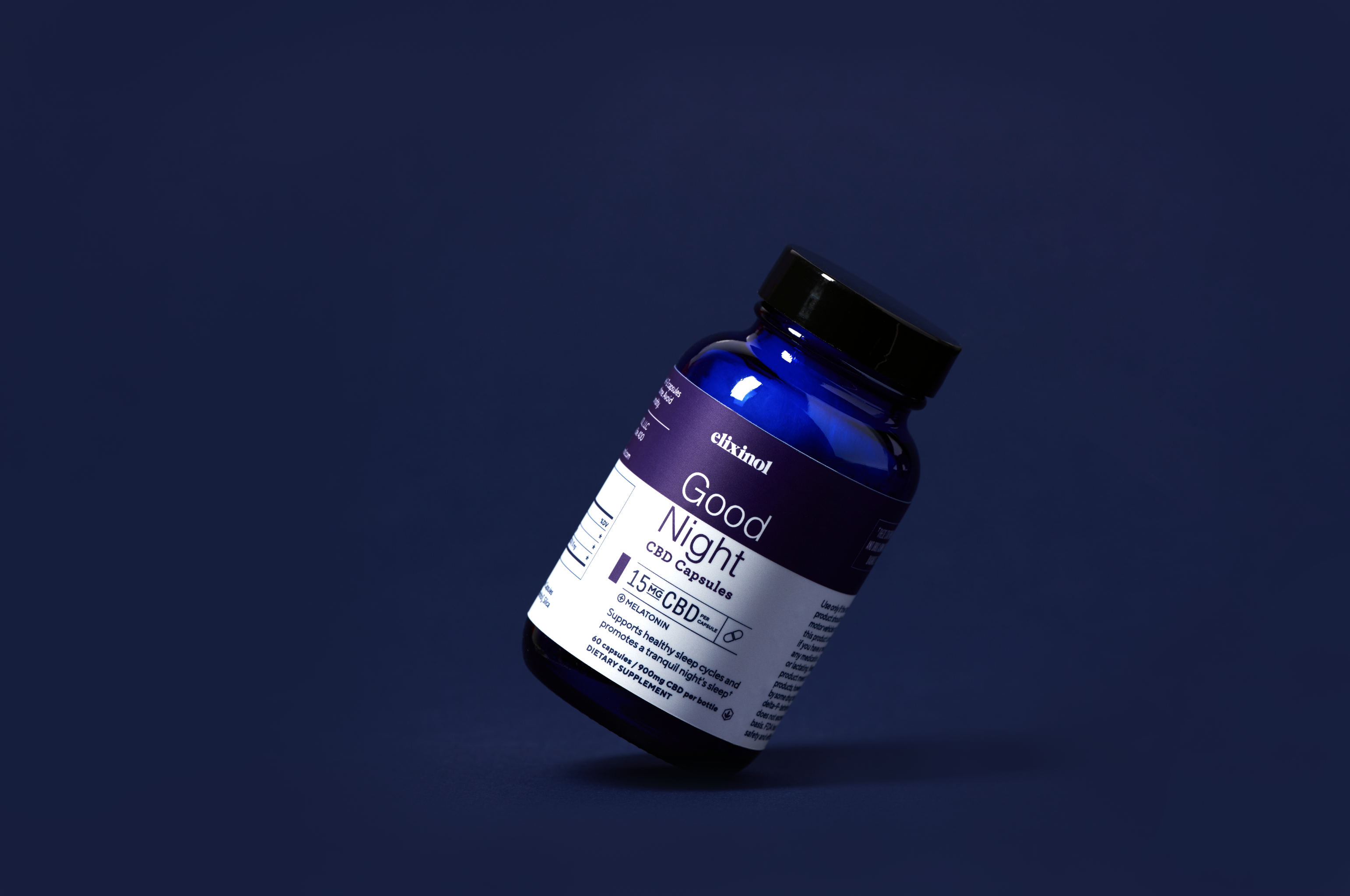 Elixinol CBD Wellness Products (www.Elixinol.com)
Stress and uncertainty can lead to lack of sleep and a constant "on-edge" feeling. So, products that resolve that angst are surely welcome. Enter Elixinol, a brand dedicated to improving the quality of people's lives through the power of cannabinoids. Elixinol is one of the very first brands on the market focused on the development of quality products, from maintaining a healthy immune system to relieving everyday stress. The company's Good Night capsules promote a more restful night's sleep—something so many of us need right now. CBD can provide the necessary support to find the balance and tranquility in these stressful times. Every Elixinol product is made in the U.S. and crafted with whole-plant extract at the base. The company researches and tests all of its extracts and publicly shows the results of their analysis online for full transparency. They also offer multiple formats and formulations, including oil tinctures; hemp extract blended with MCT coconut oil; capsules; and topicals. The Good Night capsules' custom blend of full-spectrum CBD oil and low-dose melatonin enables you to find that sweet spot of restfulness, so you can get the deep sleep your body needs to rest, recover and reboot. Melatonin helps your body recognize and react to dark and light, setting your circadian rhythms appropriately, which helps the body signal when to turn in. By boosting the levels of melatonin that naturally occur in your body, you can enjoy a better sleep cycle overall. That, coupled with CBD's knack for promoting a calm mind, can lead to a very restful night indeed.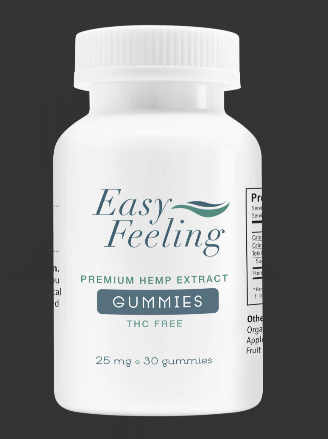 Easy Felling Wellness Assorted Hemp Products (www.EasyFeelingWellness.com)
When it's daily energy that's in order, consider Easy Feeling Wellness. No need to suffer those coffee jitters, as this company offers a more perfect hydration solution. Namely, the company's Hemp Energy & Recovery Drink Mix is balanced with 120mg of caffeine and 12.5mg hemp, plus performance-enhancing amino acids, vitamins and herbal extracts. When hemp is combined with caffeine, the result is a calm yet energized feeling that's suitable for any pre- or post-workout routine. I personally love the delicious tropical taste in these five easy-to-blend packets. The fast-acting drink mix blends easily into 12 to 24 ounces of water, to discreetly power-up anywhere, anytime. Easy Feeling Wellness' quick-absorbing Hemp Oil Tincture is the highest quality available. Ingredients are sourced from U.S. industrial hemp growers who commit to organic farming methods, and the company's premium hemp oil is guaranteed THC-free and broad-spectrum. Just a few drops of their Hemp Oil Tincture may help promote a sense of calm to better manage normal day-to-day stresses. The peppermint- or orange-flavored hemp oil tincture offers 17mg of hemp per serving, to customize the dose for unique needs. Easy Feeling Wellness Hemp Gummies are perfect for people looking for a tasty way to balance their mood, get hemp on-the-go or to be a tad more discreet about including hemp into their wellness regimen. These 25mg gummies come assorted in a variety of yummy flavors—strawberry, orange and grape. No artificial colors, flavors or sweeteners are added and they're also Vegan-friendly. Easy Feeling Wellness even offers Soft Chews for small dogs. They're tasty, beef-flavored chews that deliver 2mg of hemp oil in each morsel. We've all heard those stories of dogs terrified of being away from their owners, commonly called separation anxiety, or by thunderstorms rolling through. It's why the company's hemp soft chews are great not only for overall wellness, but for purported calming effects, too. These chews may also be helpful for that occasional discomfort that comes from aging or activity.
~~~
Forbes Business Council Member Merilee Kern, MBA is an internationally-regarded brand analyst, strategist and futurist who reports on cultural shifts and trends as well as noteworthy industry change makers, movers, shakers and innovators across all categories, both B2C and B2B. This includes field experts and thought leaders, brands, products, services, destinations and events. Merilee is Founder, Executive Editor and Producer of "The Luxe List" as well as Host of the  "Savvy Living" lifestyle TV show that airs in New York, Los Angeles, San Francisco, Miami, Atlanta and other major markets on CBS, FOX and other top networks; as well as the "Savvy Ventures" business TV show that airs nationally on FOX Business TV and Bloomberg TV. As a prolific lifestyle, travel, dining and leisure industry voice of authority and tastemaker, Merilee keeps her finger on the pulse of the marketplace in search of new and innovative must-haves and exemplary experiences at all price points, from the affordable to the extreme. Her work reaches multi-millions worldwide via broadcast TV (her own shows and copious others on which she appears) as well as a myriad of print and online publications. Connect with her at www.TheLuxeList.com and www.SavvyLiving.tv / Instagram www.Instagram.com/LuxeListReports / Twitter www.Twitter.com/LuxeListReports / Facebook www.Facebook.com/LuxeListReports / LinkedIN www.LinkedIn.com/in/MerileeKern.
***Some or all of the accommodations(s), experience(s), item(s) and/or service(s) detailed above may have been provided or arranged at no cost to accommodate if this is review editorial, but all opinions expressed are entirely those of Merilee Kern and have not been influenced in any way.***
Merilee Kern, Features Editor
Resident.com Features Editor Merilee Kern, MBA is an internationally-regarded brand analyst, strategist and futurist who reports on noteworthy industry change makers, movers, shakers and innovators across all categories, both B2C and B2B. This includes field experts and thought leaders, brands, products, services, destinations and events. Merilee is Founder, Executive Editor and Producer of "The Luxe List" as well as Host of the nationally-syndicated "Savvy Living" TV show. As a prolific consumer and business trends, lifestyle and leisure industry voice of authority and tastemaker, she keeps her finger on the pulse of the marketplace in search of new and innovative must-haves and exemplary experiences at all price points, from the affordable to the extreme. Her work reaches multi-millions worldwide via broadcast TV (her own shows and copious others on which she appears) as well as a myriad of print and online publications. Connect with her at www.TheLuxeList.com and www.SavvyLiving.tv / Instagram www.Instagram.com/LuxeListReports / Twitter www.Twitter.com/LuxeListReports / Facebook www.Facebook.com/LuxeListReports / LinkedIN www.LinkedIn.com/in/MerileeKern.